I think it's pretty clear by now that I am 100% on the fall bandwagon. Thankfully, it's a pretty big bandwagon, and there's room for all of us! Here are my top 5 fall survival items that I guarantee will make it a little easier to fall (HAH!) in love with the season.
Riding Boots
Current favorite: Sam Edelman's Penny
Look, you can keep your flip flops/flats/wedges/booties/insert favorite footwear here. Riding boots are where it's at for me. I dutifully wait until September to break them out, but once I do, I am wearing them multiple times a week until the robins come back. I love the ass-kicking attitude I get when I wear them, combined with the all-day hug for my calves.
Booties
Current favorite: Naturalizer's Kepler
So I know I just said you can keep your booties… except I guess I still need them, too. How else can I get away with rocking boots but also dresses? Booties, you can stay. (At least until it starts snowing for real).
Button Down Plaid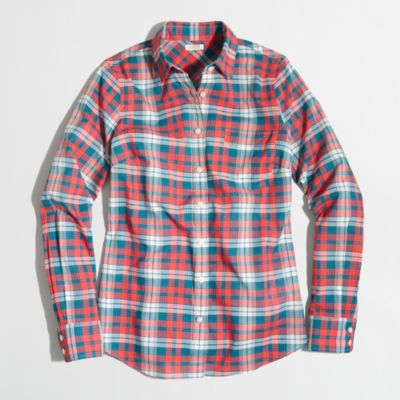 Current favorite: J Crew Factory's Classic Button Down
Look, let's be real here. At its best, fall is all about pretty colors and tasty lattes. At its worst, it's about managing 55 degrees one day and 80 degrees the next, all while the office AC is still on full blast (or, worse, 100% off). The name of the game is layers, layers like never before. I've started to use an unbuttoned plaid shirt as a light layer, which accomplishes my goal of looking seasonally festive and also my goal of not boiling alive on my trek to the coffee shop.
Camel Cardigan
Current favorite: Gap's Merino V Neck Cardigan
Again with the layers! A cardigan is much more of a commitment to warmth than a light button down, but we all know those cold days are coming. I, personally, think that camel is the superior color choice – it feels warmer than gray, is less stark than black, and is WAY less risky than white.
A Really, Truly, Excellent Hand Lotion
Current favorite: Kiehls's Ultimate Strength Hand Salve
Fall: officially the season I let my inner lizard person loose. The second the mercury drops, my hands start to look like this. Lotion is necessary to prevent my hands from turning into some sort of alternate universe Spiderman paws that cling only to thin knit fabrics. I've tried about a million different kinds, and at the moment I swear by this one – I put it on at night before bed, and my hands are smooth and soft for the next 2 hours (confirmed by everyone who knows me, because I demand they all pet my hands so they know they're soft). TRY IT! You'll like it.