Fall is, hands down, my favorite season. I know every white girl this side of a pumpkin spice latte says that, but for real. I love it. And my love is pure, without any of the impending doom that most normal people feel over the fact that fall is followed by winter…. because winter is my second favorite season. A huge part of that is because I ADORE cold weather clothing (and holidays, and food, and color schemes, and decor, and… yeah. All of it). All I'm saying is, if I never had to wear a pair of shorts ever again, I would be perfectly happy.
Anyway! My fall style this year (and every year, if I had my way) would best be described as "Academically oriented lumberjack riding into the sunset on a pretty horse". I'm looking to focus on navy, grey, and cranberry with lots of plaids and tweeds and cognac leather accents. Specifically, I know I need the following items for my fall wardrobe to truly be complete:
Cognac Riding Boots
Sam Edelman Penny Riding Boots
First up on my wish list is a pair of cognac riding boots. This has been on my wish list for, oh, about a million years now… so I'm not super hopeful that I'll actually find what I want. I'm ridiculously picky when it comes to boots (well, shoes in general) and while I'm willing to spend a little more to get something amazing, I have yet to find the perfect combination of color, style, fit, and price. I can barely even find 3/4 of those qualities – last year I settled for the perfect style, fit, and price, but sacrificed cognac for (lovely but not exactly what I wanted) cordovan (as seen here on The Capital Barbie). This year, however, I am going to hold firm until I find what I want.
And then I am going to wear them ALL. THE. TIME.
#noshameinmybootgame
Elbow patch sweater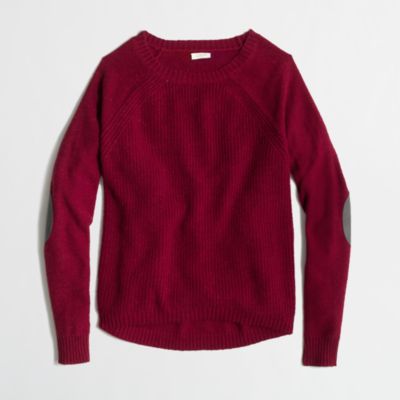 Basically, I want this sweater. Only not exactly that sweater, or I would have bought it last year when it was on sale :P. I'm not seeing what I want in stores just yet, but I'm imagining brown patches on a navy, grey, or cranberry sweater. Then I am going to pair it with my magical unicorn cognac boots and ride off into the sunset. The end.
Tweed skirt
This is going to be tricky, because I already ordered, tried on, and rejected this gorgeous tweed skirt (which is much more textured and pretty in person!). But I shall persevere. Once school is back in session (starting next week!) and kiddos are on campus again, I'm going to need to kick my butt back into "not-so-casual-business-casual" mode again. I'm pretty sure that a conservative tweed skirt paired with a chambray shirt and a statement necklace is exactly how I should be doing that.
Plus the cognac boots. Again.
#cantstopwontstop
Camel blazer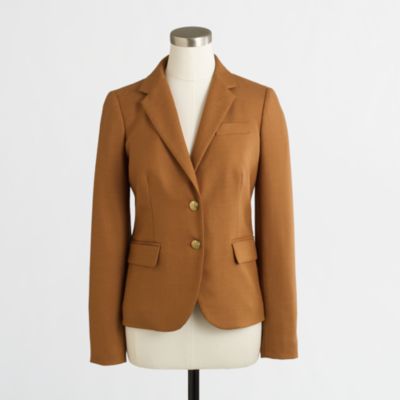 FRIENDS. Let me tell you a tale of love and loss. A while ago, Target (aka my bff) took it upon itself to personally decimate my meager checking account by creating a line of blazers that were PERFECTION. They fit well, they looked great, they had this cute contrasting cuff lining, and they came in a bunch of colors and fabrics. I got the grey tweed (naturally)  and the night watch plaid … and then hesitated instead of immediately buying the camel. And in that moment of hesitation, they sold out of my size, and my collection of skirts-that-would-look-great-with-a-camel-blazer wailed in sadness. This year I am looking to right that wrong. It may not come from Target (this one sure doesn't), but I'm determined to wrap myself in caramel-y goodness this fall… and beyond. I have a lot of dark neutrals in my winter wardrobe (doesn't everyone?), and after seeing Meredith from ThoughfulWish pair hers with grey and black I am positive this blazer is neutral enough to get tons of wear well after the last leaf is raked up and snowed over.
Plaid shirts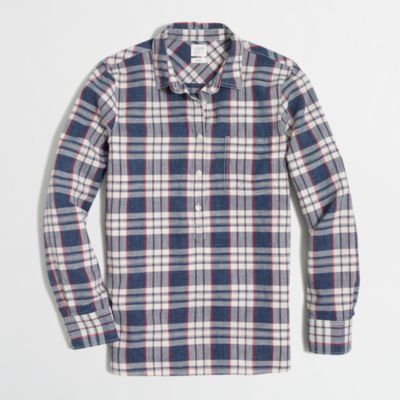 Ugh. Plaid. You guys. I love it. Some people get all swoon-y over a good stripe, I get swoon-y over a nice, woodsy plaid. I want to own this shirt, and I want to wear it with everything. And not just this shirt – I want to own all kinds of plaid. I want it layered under sweaters, dressed up with blazers, and dressed down with jeans (like Caitlin here from Southern Curls & Pearls… which almost makes me want to add a varsity style cardigan to my fall lineup, too). Basically I would get all kinds of green eggs and ham over a good plaid shirt (why yes, yes I WOULD wear it in a house AND with a mouse, thank you for asking).
Vest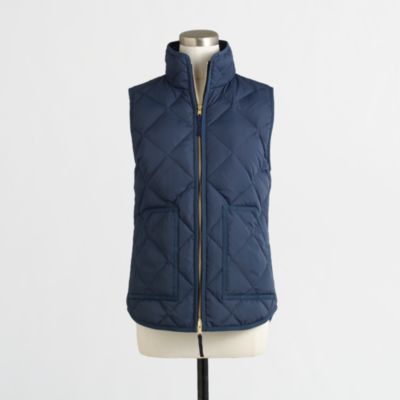 I know I'm in the minority here, but I'm just not in love with the J. Crew Factory herringbone puffer vest that everyone and their sister seems to have. It's cute in pictures, but in person… well, in person I have a hard time justifying the high price tag. But I still love the idea of layering a vest over basically any long sleeved top. I spent a long time last winter hunting for the perfect vest. It had to be navy, grey, or maaaaaybe cream… and it had to have a dual zipper (because my hips don't lie, especially about things kinda maybe being tight on them). And I found…. nothing. Except for this less-popular navy number from J. Crew Factory. Color, check. Double zip, check. Gold hardware? Extra bonus. And, after a bitchin' awesome sale last Friday that knocked over $30 off the (honestly kind of ridiculous) "valued at" price, this bad boy is on its way to my front doorstep right. meow. Fingers crossed I love it as much in real life as I do online. Specifically, fingers crossed that I love it over this plaid shirt … because I may or may not have ordered that, too. Whoops. I'm hoping the whole plaid + vest getup looks as good on me as is does on Katie here from Style on Target (I mean, obviously it won't, because I can't rock hats to save my life… but let me dream my dreams, m'kay?).
But seriously. How good would that look with cognac boots?
#clearlyihaveaproblem