Ahh August. The time has come when all of us are officially sick of summer, with it's itchy mosquito bites, melting popsicles and demand for multiple showers in a single day. Don't get me wrong, I love me some summer and spend at least 6 months every year wishing for it ( I have a running joke with Jess and Emily [that is at least 85% serious] that I am part plant because I need the sun to do the human version of photosynthesizing. Which is living, I guess? Yay science!). But, after weeks and weeks of thinking "Why am I working so hard to get dressed, I am just going to look like a sweaty mess within 30 seconds?", it's nice to daydream about crisp fall weather and the adorable outfits I am going to wear when the temperature cools off (and FYI, in my daydreams, I look gooood).
That being said, the first order of business when it comes to putting together your fall looks is filling in the missing pieces. When it comes to buying new clothes in general, I tend towards items that are kind of "season-proof" and that can be styled year round.  It's hard for me to justify buying clothes that I can only wear 2-3 months out of the year.  However, there are always those pieces that are new for the season that I cannot help but fall head over heels for.  As long as I can easily incorporate it into my wardrobe, I can find a way to justify it to myself (and isn't that really all that matters?).
So, check out below for a few of my Fall 2015 fashion must haves:
Navy Sweater: One item my closet is longing for this year is a navy sweater.  It is such a staple that somehow over the past few years I have overlooked.  Below are two of my favorites that I have seen so far: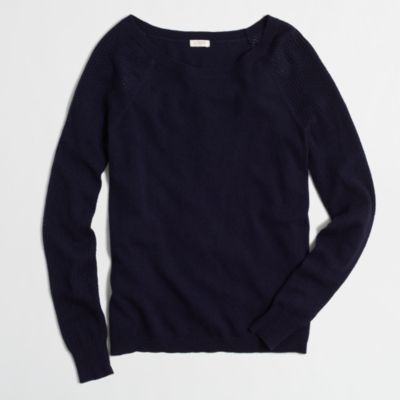 Obviously there are a million ways to style a navy sweater, so it would slide perfectly into my closet.  One way I could see incorporating it with what I already own is pairing it with my navy/white gingham button down (similar here), my cuffed dark red pants (like these here) and my brown stacked heel booties (exact here, though limited sizes since they are from last season)  I could even layer a necklace underneath the collar for a fancier look (one option) or throw my brown leather jacket over it for an extra layer of warmth (similar here). It's easy to forget about wardrobe staples when so many new stylish options are competing for your attention and your bank account, but as someone who consistently chooses 5 (…or 20) more minutes of sleep, I can personally attest to how effortless it can be to get dressed when you have those items in your closet that just go with everything.
Midi Skirts: One style I am obsessed with no matter the season is midi skirts.  I love that they make such a statement and can so easily be dressed up or down.  In the spring and summer I tend towards the more flowy midi skirts, but I love to add a bit of structure to the look for the fall. Below are a few that WILL be in my closet come September: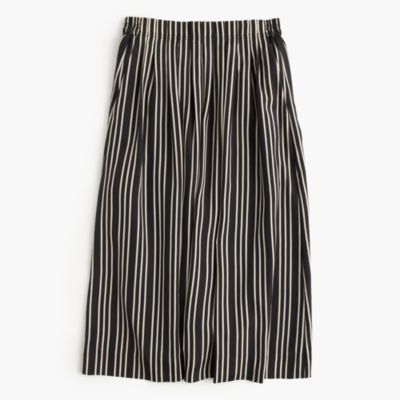 My go-to fall look for a midi skirt is a half-tucked sweater (perhaps you remember this sweater from our post a few weeks ago), paired with some neutral heeled sandals (like these here) and a long pendant necklace (like my favorite long necklace, seen in that same post). Or, as it starts to chill, I'll keep the sweater but might switch it up with my black wedges (similar here) and add my favorite knit infinity scarf (similar).
I am getting some serious midi skirt inspiration from one of my favorite fashion bloggers, Kendi from Kendi Everyday.  Check out the way she paired a floral midi skirt with subtle stripes in a way that is perfect to transition to fall here.
Olive Green: So according to those in the know, Olive Green is the "it" color of fall 2015 and I personally could not be happier.  I love finding those "not-so-neutral" colors that are somehow able to match almost everything, and olive green is the quintessential example. I already snapped up this dress in olive through the #nsale (see how I styled it for summer here, and know you'll be seeing a lot more of it this fall), but below are a few more pieces in my new favorite hue that I definitely have my eye on: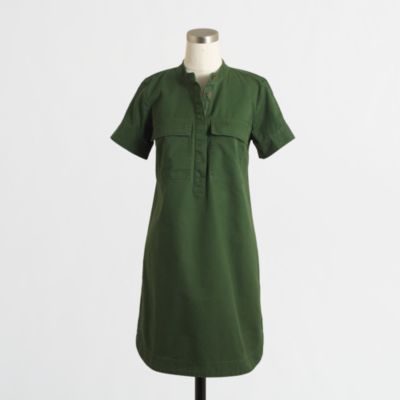 When it comes to olive, one of my favorite ways to pair it is with blush pink. Call me crazy, but the feminine/masculine mixing of pink and olive green is super appealing to me.  I could definitely see myself pairing those cropped olive pants with my blush linen tee, my favorite new booties and a statement necklace I just got that I cannot stop wearing (purchased in stores at target, similar here). I could also style that shirtdress with my cognac boots (similar) and a light colored scarf like this one I just picked up from Ann Taylor.  Finally, I am totally diggin' the way fashion guru Sarah of Sarah's Real Life is making her olive artsy with a black leather jacket and some cap-toed pumps here. There are a million different ways to style olive for the Fall and I cannot wait to start experimenting.
I hope this post got you as excited about fall as I am! What are some of your favorite Fall 2015 looks you can't wait to start styling?